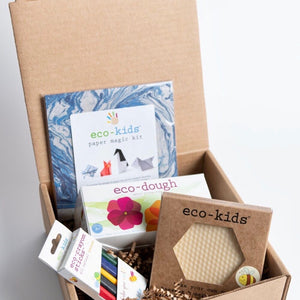 Eco-Dough Busy Box
A fun filled box of arts & crafts supplies. Stretch your imagination!
Includes: 2 pack eco-dough, 1 beeswax candle kit, 1 paper magic origami kit, 5 beeswax crayons.
eco-dough™ is an original in the natural dough market and was first introduced at the Hollywood Farmers Market in 2008. Exploratory molding dough made with non GMO flour, salt, cream of tartar, soy oil, organic rosemary oil, vitamin e oil, water, citric acid, potassium sorbate, FDA approved soy based organic and inorganic pigments. This dough is made with wheat flour and contains gluten.