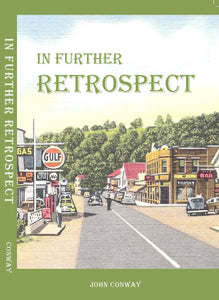 In Further Retrospect by John Conway
The best of Sullivan County Historian John Conway's long running newspaper column, Retrospect. Bigger and better than two previous collections, In Further Retrospect is both intriguing and engaging, covering a wide array of topics from basketball to weighted voting, as well as, of course, the renowned resorts of America's first vacation land. The vaunted history of the Catskills has never been better presented.
About the Author
John Conway has been writing his weekly Retrospect column on Sullivan County history since 1987. This is the third compilation of column published in book form, following Retrospect in 1996 and Remembering the Sullivan County Catskills in 2008. He is the author of six other books, including Sullivan County: A Bicentennial History, Loomis: The Man, The Sanitarium and the Search for the Cure, and Dutch Schultz and His Lost Catskills Treasure.
He has been the official Sullivan County Historian since 1993 and is a Registered Historian as accredited by the Association of Public Historians of New York State.
Between 1975 and 1994, he hosted three different popular call-in radio talk shows, and is regularly asked to provide a historical context for Sullivan County news events by the New York Times, Associated Press, and Fox News, among others. He has appeared in several documentary films, as well as on the Fox television series, Million Dollar Mysteries, the Travel Channel series, Code of the Wild, and on the BBC's Stand Up America. He has also collaborated on a series of award-winning video documentatries, which are available for screening at www.classiccatskills.com.
He has lectured on Sulllivan County history throughout New York, including at the New York State Museum in Albany. He has received a number of awards, including a New York State Broadcaster's Association award for best public affairs program for A Look Back, in 1995.
He lives in Barryville with his wife Debra and their Newfoundland, Preston.