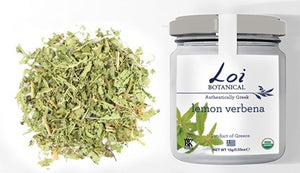 Loi Botanical: Lemon Verbena
Loi Botanical Lemon Verbena grows wild in the fields of Greece. Use this lemony herb to season savory or sweet dishes, or make a tea like the ancient Greeks to sooth digestive issues - always ask your doctor.
Maria Loi - World-renowned chef, restaurateur, author of The Greek Diet, Mediterranean culinary authority, and founder of the Loi Brand. Born a farm girl in Greece, she learned the flavors, culinary traditions, and recipes of her homeland. From cooking with her grandmother to innovating at her restaurants, Chef Loi deploys ancient legumes, grains, and flavors that continue to flourish millennia later. With Loi, modern knowledge and ancient lore are carefully blended to create dining that's as good for your soul as it is for your body.