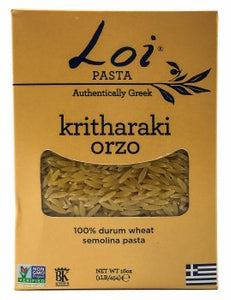 Loi Pasta Kritharaki Orzo
Loi Pasta Kritharaki Orzo is a traditional Greek pasta, made from durum wheat semolina; similar to rice in both size and shape, but quicker to cook and more resistant to overheating, Loi Kritharaki Orzo can be enjoyed hot or cold; it's the perfect side for braised dishes, the ideal component in hot soups, and wonderful when tossed with vegetables in a cold pasta salad. Enjoy Loi Kritharaki Orzo with any meal - it's your every day, every way pasta!
Maria Loi - World-renowned chef, restaurateur, author of The Greek Diet, Mediterranean culinary authority, and founder of the Loi Brand. Born a farm girl in Greece, she learned the flavors, culinary traditions, and recipes of her homeland. From cooking with her grandmother to innovating at her restaurants, Chef Loi deploys ancient legumes, grains, and flavors that continue to flourish millennia later. With Loi, modern knowledge and ancient lore are carefully blended to create dining that's as good for your soul as it is for your body.