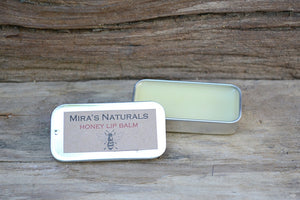 Mira's Naturals Honey Lip Balm Retro Slide Tin
Mira's Naturals Honey Lip Balm is an all-natural way to keep your lips well hydrated during all four seasons. It will also keep your lips protected with SPF 5. It is made with three simple ingredients!
This fun slide tin is our way of offering you another option to the traditional tube and it fits so well in a pocket!


Ingredients: Sweet almond oil, beeswax and honey.

We harvest beeswax and honey right from our backyard and local community farm!
.25 ounce tin