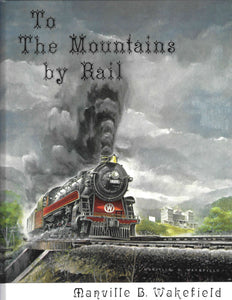 To the Mountains by Rail by Manville B. Wakefield 50th Anniversary Edition
50th Anniversary Edition with a new Foreword by John Conway, Sullivan County Historian
A railroad came to the mountains! To the Mountains by Rail is a landmark in railroad history. Written by renowned rail historian Manville B. Wakefield, the book is ground-breaking in its treatment of the details of the New York, Ontario and Western Railway, and in its exploration of Sullivan County history. The book takes readers back to a time when the Catskill Mountains were the major vacation destination on the East Coast, playing host to tens of thousands of visitors each summer. Wakefield has recreated this era in masterful style. He has assembled an unusually detailed photographic record of the O&W line, the people who traveled it, and the great bygone resort hotels of the area.
Manville B. Wakefield's To the Mountains by Rail picks up where James Eldridge Quinlan left off in his 1873 history of Sullivan County, New York. This book is a must for the collection of any rail buff and anyone with an interest in the development and decline of the Catskill resorts. With 29 chapters, 32 original line drawings, 11 maps and more than 500 photographs, the book is a treasure trove of railroad history, social insight and nostalgia.
Manville B. Wakefield was a historian, artist, educator, and rail enthusiast. A president of the Sullivan County Historical Society, Wakefield set a high standard for thorough and beautifully illustrated works of local history.
Publisher's Note
"To the Mountains by Rail was a labor of love for Wakefield and his wife Barbara. It brought local history to life like few other books. The fact that it had gone out of print in 1989 bothered me. I contacted Barbara for permission to republish it. Spurred by her enthusiastic response, the project began.
Resurrecting the book was itself a formidable task. I owe a debt of gratitude to Ontario & Western Railway Historical Society members Jeff Otto and Mark Kennaugh, whose talents and tireless efforts helped bring this wonderful book back to life." ~ Myron Gittell, Load N Go Press, Kiamesha Lake, New York
 "To the Mountains by Rail is one of the two most important books ever written about Sullivan County's history. It is impossible to understand the evolution of tourism in the lower Catskills without reading this book." - John Conway, Sullivan County Historian