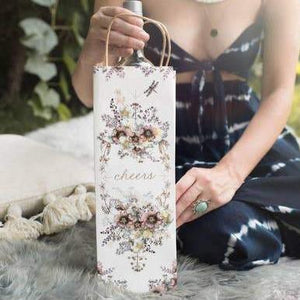 Wine Gift Bag - Cheers
No celebration is complete without a PAPAYA! Wine Bag. Present your party host with a perfectly-packaged bottle of champagne, olive oil, bourbon, or sake. Made from sturdy matte paper, this bag features vibrant illustrations, gold foil embellishments, and is ready to party! Dimensions are 14.25" x 4.75" x 3.34"
About
Papaya!
PAPAYA has been creating bold, heart-centered, artwork & collections using a fiercely independent philosophy since 2003. Based in Southern Oregon, USA. PAPAYA shares an original and undiluted artistic perspective based on the signature artwork of Co-Founder Anahata Katkin. Over the years our independently owned family company has remained true to its roots. All of PAPAYA's work is internally generated and featured on high quality lifestyle offerings. This is the heart that drives our company. All of our collections are tried-and-true, made from the best quality materials available today and 100% original artistic offerings available to the stationery industry worldwide. While the US does make limited stationery offerings, many of the more dynamic products we make simply could not be made accordingly stateside.